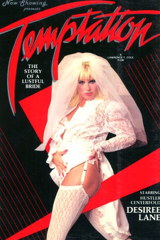 Temptation: The Story Of A Lustful Bride
Year: 1984
Director: Lawrence T Cole
Distributor: Now Showing Inc.
Country: US
Language: English
Length: 86 min
Actress: Lili Marlene, (aka Lilly Marlene)[Facial, IR] Lynx Canon, (aka Lynx Cannon)Desiree Lane, [IR] Beverlee Hills, Lisa Hess, April Devine, (aka April Divine)
Actors: Ron Jeremy, Mike Horner, (aka Don Hart)Billy Dee, Hershel Savage, John Martin, Blair Harris, (aka Blaire Harris)Ed Navarro, Rocky Rockhard, Nick Niter, Kenny Cotton, (aka Grant Lombard)Gary Eberhart
Desiree Lane is one of those stars that are still remembered as some of the hottest pieces of ass in the world. She shines in this classic from the early eighties, playing a lustful little bride who just can't resist the temptation and goes around fucking everything in her way before she gets married and has to be faithful to her husband. From a passionate threesome with legendary Ron Jeremy to some hot lesbian action and a messy orgy with huge facials, the temptation of sex never looked better.