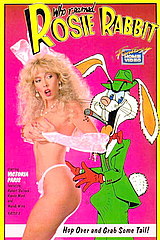 Who Reamed Rosie Rabbit?
Year: 1989
Director: John T. Bone (aka R.T. Longhampton)
Distributor: Fantasy Home Video
Country: US
Language: English
Length: 76 min
Actress: Victoria Paris, Stacy Lords, Cory Wolf, (aka Karen Wood)Jessica Bogart, Mandi Wine, [LezOnly]
Actors: Randy West, Jon Dough, Robert Bullock
Blonde sex bomb Victoria Paris stars as Rosie in this titillating take-off on the animated mega-hit. It seems Rosie likes to watch cartoons all day long, but her boyfriend Robert Bullock is getting tired of constantly viewing innocent animation. He wants to see some sex, so he flips through the channels until he finds what he's looking for. The only problem is that Rosie has no interest in the sexual shenanigans and would much rather live in her fantasy world all the live-long day. Eventually, the erotic flicks on her television inspire her to engage in some very animated antics with her finally satisfied lover. This is a fun one and a good choice for couples with its natural, unkinky, romantic sex scenes.