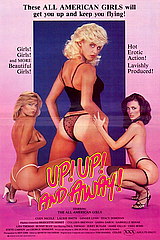 Up! Up! and Away!
Year: 1984
Director: Jim Hunter
Distributor: Adam and Eve
Country: US
Language: English
Length: 83 min
Actress: Ginger Lynn, Bridgette Monet, Colleen Brennan, Stacey Donovan, (aka Stacy Donovan)Bunny Bleu, Debi Diamond, (aka Shelly Rey)Laurie Smith, Cody Nicole, [Facial] Cynthia Brooks, (aka Lisa Thoma)Gabrielle Behar, Lisa Thomas
Actors: Jamie Gillis, Paul Thomas, Jerry Butler, Sasha Gabor, Rock Rome, David Cannon, Larry Harwood
A beautiful, wealthy woman owns an airline, but leaves the everyday operations to her husband. It isn't until after he dies that she discovers that he was taking more than a passing interest in his female passengers and employees, and she has to fight to keep the airline out of the clutches of her dead husband's sleazy partner.